Patient Transfer Trolley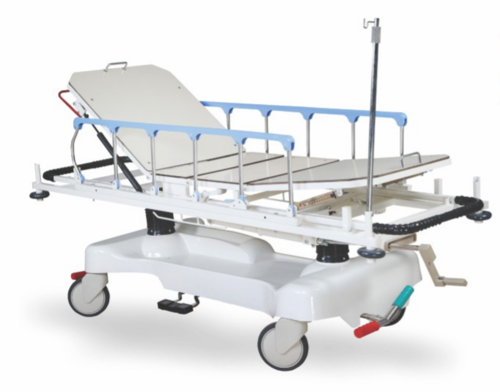 Patient Transfer Trolley
Product Description
Standard Features
Frame Structure is made up of CRCA Tubes.
Heavy duty non-staining, precision ball bearing swivel castors of 200 mm diameter with high-grade synthetic body for easy maneuverability.
Foot operated and centrally actuated lever at head and foot ends with multistage switching for total lock, direction lock or free mobility
Gas spring assisted seamless adjustment of Backrest.
Knee Rest can be adjusted via Crank Mechanism as well as Rachet Mechanism.
Convenient Height adjustment, Trendelenburg and Reverse Trendelenburg Positions can be achieved via high quality Dual Column hydraulic pump with foot operated levers on either side of the trolley.
Four section mattress platform made of X-Ray permeable Pre-laminated Board, Supported on Strong Tubular Frame with removable stretcher
SlidingX-Ray cassette holder throughout the length of the trolley.
Fully collapsible and individually operated safety side railings.
Push pull handles on either side with rubber grippers.
Provision of mounting heavy-duty IV pole at four locations
Safety rubber buffer at four Corners
Ample storage space
Rexene covered two section PU foam mattress; 50 mm thick
Dust Protective Base Cover with Oxygen Cylinder Holder.
Overall Dimensions: 2150 mm L X 820 mm W
Mattress Platform Size 1900 mm L X 630 mm W
Back rest tilt: 0-65 degree
Knee rest tilt: 0-35 degree
Trendelenburg/ Reverse Trendelenburg: 0-15 degree
Minimum Height: 620 mm Maximum Height: 920 mm
All Metal Components are Pretreated and Epoxy Powder Coated.